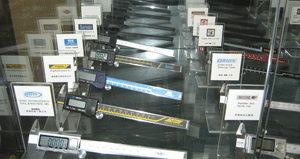 TRESNA provide ODM/OEM service for more than 130 companies and/or brands worldwide.
Being a national high-tech enterprise, we are supplying thousands of products of ODE & OEM & Wholesale service all over the world since 1989 . All the ODE & OEM & Wholesale products includes digital calipers series, vernier calipers, dial calipers, dial calipers series, depth gauges, digital scales units, micrometers, digital height gauges, indicators, digital thickness to LCD digital units with 200 types and 1000 standards.

Tresna is the world's greatest measuring instrument original design manufacturer (ODM) and Original Equipment Manufacturer (OEM) since 1989. We provide ODM/OEM service for more than 130 companies and/or brands worldwide. All products can be imprinted with your company name or brand name. In the meantime, we also sell products without logos and labels. Quality standards and approvals are in accordance to buyers�requests.Whether you are in the market for calipers, micrometers, indicators or any one of hundreds of measuring instrument, there is a Tresna Instrument to meet your needs.
Please send your ODM & OEM inquiry to


Or click here to leave your message

Tresna provides measuring instruments wholesale through internet. It is a fast and efficient way for buyers around the world to purchase the Quality & Precision & Low Price measuring instrument products for their local market.
By this way, you don't have to spend a lot of money on traveling to China and rush yourself through different small towns just for that exact measuring instrument you want. In TresnaInstrument.com, our wholesale
professionals will help you find out the most suitable items for you at the most competitive price in our wide range of measuring instrument products. You can easily handle the whole purchasing process with only several emails.
For us, Tresna wholesale is more than a buying and selling business. Each of our clients is a partner and every sale is a partnership. All we do is to make sure that you can always get exactly what you want, when you want it.
What is Tresna's Wholesale Policy? Can i be a wholesaler in my country? Please send your wholesale Inquiry to

,
Or click here to leave your message
-------------------------------------------------------------
Calipers Wholesale | Digital Calipers Wholesale | Vernier Calipers Wholesale | Dial Calipers Wholesale
Micrometers Wholesale | Depth Gauges Wholesale | Height Gauges Wholesale | Digital Indicators Wholesale | Dial Indicators Wholesale | Digital Thickness Gages Wholesale | Dial Caliper Gages Wholesale
Finding reliable indicators, micrometers, gauges and digital calipers wholesale, manufucturers, factories, companies, exporters or distributers? There is Tresna here to Satisfy You.