Buy for Charity: Donate 10% to China Earthquake Victims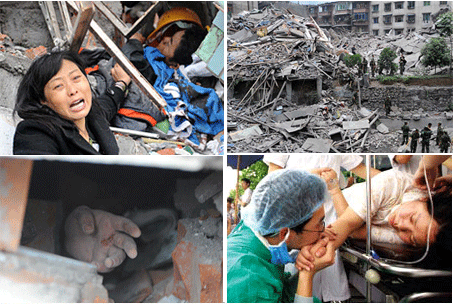 May 13 -- As of 7 p.m. Tuesday, southwestern Sichuan Province of China has reported 12,012 death in Monday's quake. Another 9,404 were buried in debris, 7,841 were missing and 26,206 people were injured in other parts of the country after the 7.8-magnitude quake struck at 14:28 local time (0628 GMT).
Shop for measuring instruments online at TresnaInstrument.com and we will donate 10% of sales from you to China Earthquake Victims.
News About China Earthquake
'No Hope�for Children Buried in Earthquake
Powerful Quake Ravages China, Killing Thousands
Greek FM expresses condolences to Chinese gov't for quake victims
Spain's royal family expresses condolences to Chinese quake victims
EU expresses sympathy to China over earthquake
UN General Assembly president expresses sympathy to China quake victims
Balkan leaders send condolences to China
IOC offers support to China after earthquake
Chinese FM, UN chief hold telephone talks over massive earthquake
German chancellor offers condolences to China over earthquake
World leaders, int'l organizations offer condolences to quake-hit China
·HKSAR gov't offers help to mainland earthquake-stricken areas

Isolated China quake epicenter appeals for emergency aid
Chinese disaster relief troops approaching earthquake epicenter on foot
Premier Wen arrives in Chengdu, heading for epicenter
China issues regulation to better manage disaster relief donation
President Hu orders utmost effort for Sichuan quake victims
Chinese health ministry sends 10 medical teams to quake-hit areas
Premier Wen appeals for "calm, confidence, efficiency" after quake
China Red Cross allocates relief supplies to quake victims
China initiates disaster relief emergency plan for Sichuan quake
Medical, military quake relief team mobilizing to leave Beijing
China seismological bureau to send team for Sichuan relief work
China sends troops to quake-hit county for disaster relief